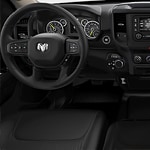 The Ram 1500 is one of the best-known names in the light-duty truck market. People are well acquainted with its power and durability and prefer it above other available models. When you need a light-duty truck for work or family driving, look at all that the newest Ram 1500 can offer to you today.
One of the reasons why it is so durable stems from the fact that it is made from military-grade aluminum and steel. Its heavy-duty frame gives its power to take on collisions from any side without sustaining significant damages and without putting you and others in the truck at risk.
It also has a hauling capacity of several thousand pounds, making it ideal for use around the farm or on a construction site. You can drive it over rocky roads and haul materials like hay and bricks without putting the body or tires in jeopardy.